In India, when discussing the Indian banking system, a prominent name that always comes to mind for everyone is the largest private lender, 'HDFC Bank.' It has not only provided excellent services to its customers but has also played a pivotal role in shaping the banking landscape.
Furthermore, this bank has generated significant wealth for its investors who have been part of its journey through both ups and downs since its initial journey.
Meanwhile, in this article, we are going to analyze a concern that has been derived from the bank's financials, important lines like the bottom line, that is Profit after taxes, as well as the market capitalization CAGR growth.
Graphical presentation of the HDFC Bank's PAT CAGR and Market Capitalization: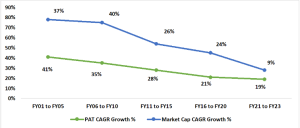 For better understanding, we have broken down the data into five parts, where we have calculated the PAT growth and Market Capitalization growth on a compounded basis every five years. We have taken the data starting from the financial year 2001 to the last financial year 2023.
Based on the graphical presentation above, HDFC Bank's PAT compound growth is lagging in every five-year time frame. In the first five years from FY01 to FY05, it was 41%, then it went down to 35% in the next five years. In the subsequent five years, it again decreased to 28%, and this trend is still continuing. In the last three years, from FY21 to FY23, it stood at 19%.
Furthermore, the same trend is observed in the market capitalization growth on a compounded basis, except between FY06 to FY10. Starting from FY01 to FY05, it was 37% and showed growth, registering a 40% compounded growth in the five-year range between FY06 to FY10. Beginning from FY11 to FY15, it was 26%, and in the last three years, from FY21 to FY23, it remained in single digits at 9%.
Moreover, HDFC Bank organized an analyst meeting this month. During the meeting, HDFC Bank pointed out the possibility of a short-term worsening of net interest margin (NIM), net worth, and asset quality following its merger with its parent company, Housing Development Finance Corporation.
Following this news, the stock shed 4% on that day, which is the second biggest fall this year. The biggest fall in HDFC Bank shares this year occurred on May 5, 2023, when it fell approximately 5.91% in a day and closed at Rs 1625.65 on that day.
Check: Dhanlaxmi Bank: Witness Multibagger Returns
On July 1, the merger of the two entities occurred, resulting in the formation of the second-largest bank in India and the third-largest company in India by market capitalization, following Reliance Industries and Tata Consultancy Services Limited.
The current market capitalisation of the bank stands at Rs 11,57,639 crore, and the stock closed at Rs 1527.20 per share today on the BSE. In addition to this, the stock has generated a negative return of 8% in the last three months and a mere 8% in the last one year.
Disclaimer: 

This blog has been written exclusively for educational purposes. The securities mentioned are only examples and not recommendations. It is based on several secondary sources on the internet and is subject to changes. Please consult an expert before making related decisions.